Madden 17 Ultimate Team: Ultimate Freeze Program Released
fifa15-coins
Date: Dec/22/16 04:37:38
Views: 149
This year, ultimate freeze is here to celebrate the MUT 17! The "Ultimate Freeze" program features series of activities, such as Ghost of Madden, Out of Position Players, gifts, etc. Check the details below.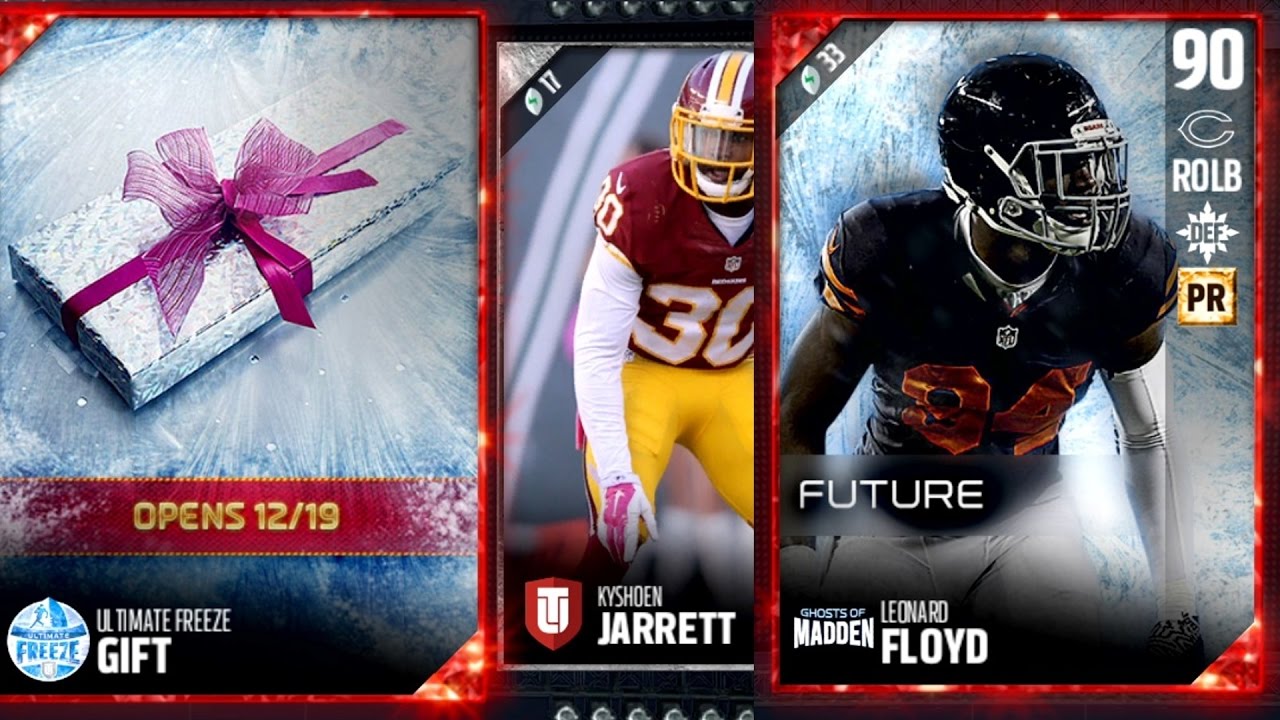 Ghosts of Madden
Ghost player items represent players of the past, present and future. You can earn most of these Ghosts from the Ghosts of Madden set which requires any 50 Frozen Moments collectibles. They can also be found in packs directly. Here's the list:
Deion Sanders (master)
Champ Bailey (past)
Marvin Harrison (past)
Justin Houston (past)
Jevon Kearse (past)
Jeremy Shockey (past)
Adrian Peterson (present)
Ndamukong Suh (present)
Lavonte David (present)
Matthew Stafford (present)
Corey Coleman (future)
Jalen Ramsey (future)
Leonard Floyd (future)
Jared Goff (future)
Out of Position Players
OOP player items, have made their return to the mode. You can find OOP player items in packs and you can earn them from the new sets. The OOP Player set requires any 6 Frozen Moments collectibles and rewards you with a single OOP player item that's gold or better. The OOP Upgrade set requires any 10 gold OOP player items, and guarantees you one elite OOP player. The OOP Master set rewards you with a Deion Sanders player item at WR. You need all 15 base OOP elite players to unlock him. Here are this year's OOP players that we know about so far:
Deion Sanders (master)
Terrelle Pryor Sr (LTD)
Paul Krause
Tyrann Mathieu
Ben Roethlisberger
Landon Collins
Dontari Poe
Kyle Long
Donald Penn
Tavon Austin
Shaq Thompson
Doug Baldwin
Eric Ebron
Keenan Allen
Ryan Tannehill
Tim Hightower
Jason Peters
All Gold OOP Players
Frozen Gifts
Frozen Gifts are available in packs for a limited time. And this year, Frozen Gifts are collectibles that "unwrap" on specified dates and rewarding you potentially awesome MUT content. When the reveal date comes for Frozen Gifts, they will turn into packs that reward you with the gifts'contents.
Frozen Moments Collectibles
You can find Frozen Moments Collectibles in packs and earn them through objectives, H2H Seasons, and Frozen Solo Challenges. There are 10 different Frozen Moments collectibles. Some sets will require any Frozen Moments, others will require all 10. All Frozen Moments collectibles are no auction/trade.
More information you can check on muthead. Hope you can enjoy the promotion. Also we get a big promotion here for a month. 6% discount to get madden 17 coins to save your money. When you purchase madden mobile coins for a certain amount, you will get benefits. More information about promotion you can see on madden-store.com.