Madden NFL 18 Review Of Music And Visuals
fifa15-coins
Date: Sep/21/17 15:24:46
Views: 120
EA Sports makes it clear again that interactive football belongs to them. Madden NFL 18 launches visual engine and 3 modes that perfect the experience.
In and of itself, we were fascinated with the results of EA Sports giving us one of the most complete football games of its franchise. Madden NFL 17 shone by itself as one of the best sports titles of last year.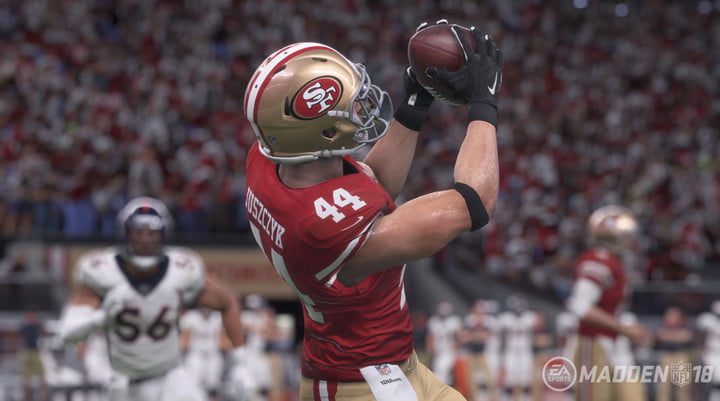 Music
We continue with the mostly hip-hop style that has been giving in recent years, and although we do not dislike listening to songs of this rhythm at the right moments of the game, we wonder if Tiburon could be a little more ... diverse in his musical selection although I repeat, is not indispensable in this saga). Everything indicates that we will not have voices in Spanish since that great edition of '98, and it's a shame, because the texts are not in Spanish either. EA must consider that the NFL's Hispanic audience is solid and growing. The effects of blows, britos and public, great.
Visuals
Almost perfect in Madden NFL 18. The choice of a graphic engine change to Frostbyte (Star Wars Battlefront) could not be at a better time, especially with the more than 3 hour interactive film, Longshot. It's a delete see Oscar winner Mahershala Ali alternating with Dan Marino with astonishing motion capture, and the plays themselves, wear helmets and jerseys, and the look of dozens of players is astounding. Unfortunately there are framerate falls in win animations and transitions, but they do not happen at key moments of the game itself, which is appreciated. Farewell to 360 and PS3 versions, finally!
Game System
Marvelous, the decision to start the game choosing between Arcade, Simulation and Competitive mode. The first is for players of all ages and curious of the franchise, as it offers a simple experience to assimilate and fast and exciting games. Simulation is the traditional and complicated (but addictive and assimilable) game system with extensive improvements to the 17th Edition and the Competitive is even more demanding, used for online gaming and eSports competitions (which will surely be the sensation on the sports stage professional electronics). The passing system has been further refined and the Ultimate Team (especially the MUT Squads) is a dream come true for the most dedicated fans of this great sport. The online game is impeccable and we repeat: Arcade opens the doors to play with relatives and friends who like the American, but not necessarily experts in video games. Annoying charge times.
We loved Madden NFL 18. It's not a simple annual version to make you spend on another game, but a complete and perfected football video game that certifies that the interactive NFL is in good hands with EA Sports. Get excited about Longshot, live with novice friends in Arcade and experience the most perfect simulation experience... all in one game!
Are you excited to know the big update currently? It must be a pleasant journey. Just gather cheap mut 18 coins for sale on Madden-Store to start your wonderful experience.